GLP Compliance Status
GLP (Good Laboratory Practice) provides standards for accurate and proper conduct of tests and studies that evaluate the safety of pharmaceuticals, medical devices, regenerative medicine products, agricultural chemicals, and chemical substances.
Kashima and Kumamoto Laboratories, and Analytical Research Center of mediford have undergone GLP analytical compliance assessment of relevant regulatory authority, and provide highly reliable data for application for approval of pharmaceuticals, medical devices, regenerative medicine products, chemical substances, agricultural chemicals, Industrial Safety and Health Law, feed additives, and veterinary medicines, etc.
Analytical Research Center
Pharmaceuticals(TK)
First

Date of notification: February 9, 1999

Judgement:A

Latest

Date of notification:March 28, 2023

Judgement:Pass *Inspection was conducted in December 2022

Next Inspection:Year 2025
Animal Welfare
New drugs, agricultural chemicals, and chemical substances are being developed to improve the welfare of all mankind. In order to evaluate their performance and safety, animal experimentation may be the only mean, and the outcomes of the animal experimentation make a tremendous contribution to the maintenance and promotion of human and animal health. Meanwhile, the animal experimentation requires life and physical burden of animals. It is necessary to implement the 3R "Refinement (less pain), Replacement (use of alternative methods), and Reduction (use of fewer animals)".
Mediford Corporation believes that animal welfare is the most important element in animal experimentation along with our utmost effort to implement 3R. We focus on strengthening environmental enrichment, improving housing environment of animals, and work to provide stress-free environments for the animals to improve the well-being of animals. All animal experiments conducted at Kashima and Kumamoto Laboratories are reviewed periodically by Institutional Animal Care and Use Committee, and the results are verified by AAALAC International.
AAALAC (Association for Assessment and Accreditation of Laboratory Animal Care International) Accreditation
Mediford Corporation received accreditation from AAALAC International on November 6, 2012. Since then, we continue to maintain our accreditation status. We live up to our global responsibility for humanitarian care and use of animals and we conduct high quality research and studies at an international level.
AAALAC International an international non-governmental organization that promotes humane treatment of animals in science through voluntary assessment and accreditation programs. The AAALAC certification is globally recognized and valid.
Certification plaque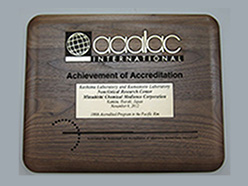 Date of accreditation
First: November 6, 2012
Second: June 28, 2016
Third: November 7, 2018
Fourth: November 9, 2022 (The site visit was postponed for 1 year due to COVID-19.)
Facility inspection (Self-inspection) by Institutional Animal Care and Use Committee (IACUC)
Latest self-inspection:
April, 2023; Result "Acceptable" (no major issue found)
In-house education
We provide education on animal welfare, occupational health and safety laws etc. to all staff regardless of profession.
New employee

Introductory education
All staff

Monthly education (once/month)
Memorial service
A memorial service is held annually at the Kashima and Kumamoto Laboratories.